2016 Road trip - South Dakota • Montana • Colorado
Click pics to enlarge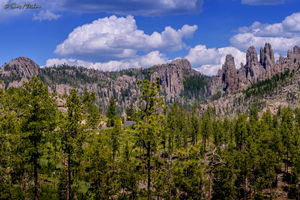 When the weather turned sour for our original destination (North Carolina), we searched for someplace dry. Once again, the weather out west was accommodating and we took off for Rapid City, South Dakota. 
Rapid City is the home of Mt. Rushmore and just a stone's throw from Sturgis, where they hold an annual motorcycle rally that is likely the largest bike rally on the planet.  Once you ride this area you quickly realize why Sturgis is so loved by bikers.  It is about as perfect a place as you're ever going to find to ride a bike.  The roads are in good shape with lots of twists and turns, and the distance between towns is just right for "time for a beer".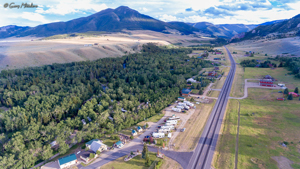 Because we've been to every stop on this tour before, I limited the number of pictures.  What's new this time is the aerial photography.  Having recently acquired a drone, I was anxious to use it and try out some new techniques. 
Understanding the size and weight limitations of an aerial platform, I knew the images wouldn't equal those of my Nikon.  But I must say, considering the size of the camera and its sensor, the images are really pretty good. 
There's nothing that compares with a motorcycle for truly experiencing the great outdoors.  Not only do you get a full view of your surroundings, you get to smell the changes as they occur and the air seems fresher.  That said, there are a few drawbacks.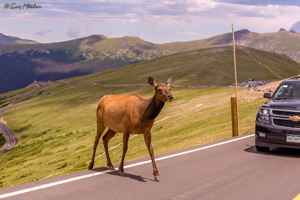 First, there's the idiots in their cages touring the parks.  When they encounter a bear (or any animal) the first thing they do is find a way to block the road.  Then, they roll up their windows to keep themselves safe.  When you're on a bike you're a little more vulnerable.  One park ranger I talked to told me that rarely does a week pass where someone isn't gored by a buffalo.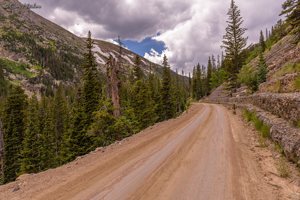 The next problem is deep ruts on dirt roads.  A thousand pound touring motorcycle doesn't handle rutted dirt roads very well.  Add in a few super sharp turns where you're forced to stop because the knot head in front of you can't negotiate it in his car, and you're asking for trouble.  So, this year we took the bike when we could and the pick-up when needed.  I'm not sure if older is wiser - or just dumber, slower and better at excuses.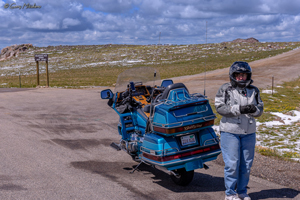 South Dakota provided terrific roads and a few beer stops, Montana has Beartooth Pass, Perry's RV (community campfire – meet you neighbor and share a cocktail), and the most down to earth people on the planet, and Colorado has Rocky Mountain NP. 
All in all, we had a great time.  Met some new friends, rode some fabulous roads, got to see several critters up close and personal, and enjoyed the "West" once again. 
Slide show HERE.