National Parks of Utah. 4th & final leg of the trip - August, 2014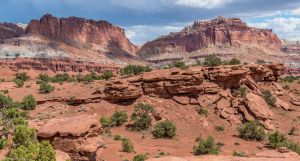 Our last leg of our western journey was to Utah to see most of the National Parks there.  On the way we spent a day in Heber City, Utah; just outside of Salt Lake City.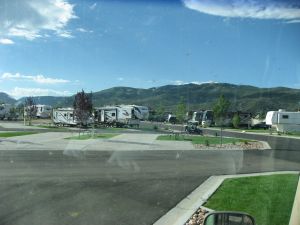 I'd read about a new RV resort in Heber City that was getting rave reviews, and we needed a short day in the motorhome after too many long ones.  Wowee, we were not disappointed.  A beautiful new resort with a heated pool, a hot tub, an out-door fire ring next to the pool, and a lodge with a sitting room equipped with a fireplace and a bar where you could BYOB, watch TV, and visit with your neighbors.  This place is first class all the way.  My guess is that once word gets out it won't be $40 a night for long!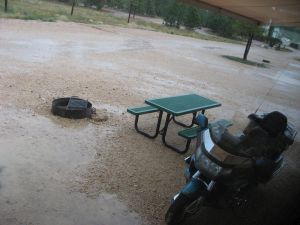 The next day was a fairly short run to Bryce Canyon, but with the scenery in this area it took a little longer because of all the times we stopped.  Ruby's Campground in Bryce Canyon is designed more as a place to park your RV rather than a resort. With everyone packed in tightly, and in the back (where they put the "big rigs"), it's basically a clay field with hook-ups.  All that was OK until the next morning when we woke up to heavy rain.  I think a motorcycle on wet clay gets slightly less traction that it would on greased ice.  I never dropped it, but I do believe I now hold the World's Record for close calls.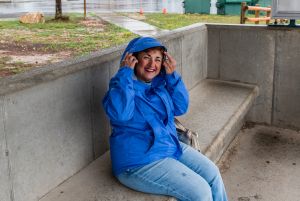 One of the things your tax dollars are pissed away on is a free bus service through the park and the surrounding area.  We discovered that they have two services, a shuttle bus, and a narrated tour.  With the rain pouring down, a narrated bus tour sounded pretty good and we reserved two seats, even though I told Mary there was no need to reserve as we'd be the only ones on the bus in the rain.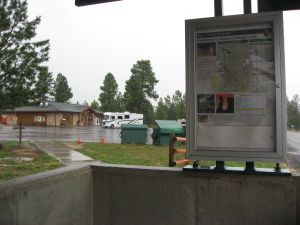 Ruby's Campground couldn't have been nicer and sent a van to pick us up and drive us to the bus stop right in front of the campground.  Believe it or not, it's over a quarter mile from where we were camped to the road, and let's not forget about that 'slicker than owl shit' wet clay.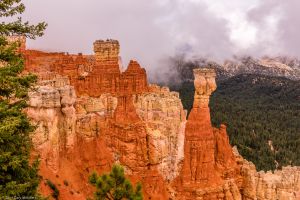 Boarding the completely full bus we were lucky enough to be seated right behind the driver, where I could actually hear him.  Unlike some narrated tours where they turn on a tape recorder, our driver personally talked to us like we were old friends.  After he very intelligently answered a few questions I realized that he was quite knowledgeable and had studied the park.  I still can't believe two things.  One, that this outstanding tour was free.  And two, that it was provided by our government.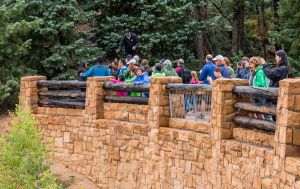 As the bus tour was winding down, and conversation with the driver was increasingly friendly, we asked him about a dinner show we were considering.  As it turns out, our driver was a guitarist in the group and had been working seven nights a week for past few years!  Ambitious guy!  The Bar G Wranglers were outstanding and our driver Jay Evans is a talented musician.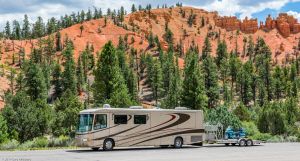 Remember how I cried about those two pieces of pie for $17?  Well, in Bryce Canyon we sort of had the exact opposite experience.  With all the rain, dust and mud we had picked up, the entire rig was having trouble packing any more dirt on it.  At some point it's at capacity and the dirt just falls off!  Thinking we should give new dirt a fair chance to find a home, I went to the truck wash across the street from the campground.  They had a bay that easily accommodated my entire 65' long rig, with room to spare.  Each side of the bay was equipped with a pressure hose long enough to get to all ends of the bay.  They even had a catwalk on each side about five feet off the ground.  Turn the machine on, walk down the catwalk, go down the stairs, walk back doing the lower section.  Repeat for the other side.  For $15 I got the motorhome, the trailer, and the bike all washed!  How's that for a bargain?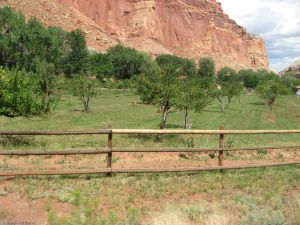 Leaving Bryce we set up camp in Torrey, Utah where we visited Capital Reef National Park.  Established in 1971, Capital Reef is a small park, but beautiful nevertheless.  This park was on my "maybe" list until we heard more about it from our dinner partners in Bryce.  And right they were!  Every park in Utah has its own distinct features and Capital Reef is no exception.  Hard to define, but the 'look' was outstanding and the unique orchards planted by the early settlers made their bounty available, as you could pick whatever fruit you wanted.  Freebie's!  Who doesn't like freebie's?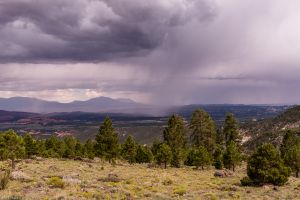 Just outside of Capital Reef is RT 24, rated as one of the better scenic drives in Utah.  We enjoyed it very much, but typical of mountain roads, the weather was turning on us as we rode.  As you view the pictures you'll see some clouds in the distance pouring down rain.  These pictures were taken from RT 24 as we watched the front move in on us.  Pretty to look at, not so nice to be part of.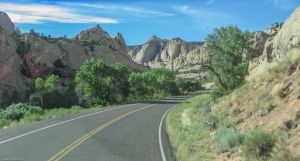 Our next stop was Moab, Utah, so we could visit Arches and Canyonlands National Parks.  The road to Moab was one of the most remote roads we drove on.  We drove for a couple of hours without seeing another car and had no cell signal.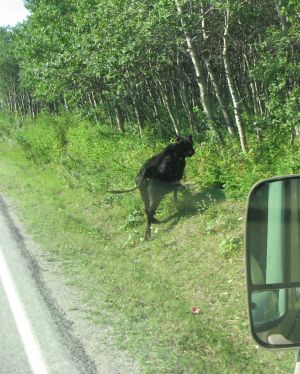 Most of the roads in Utah are "open range", meaning that if you hit a cow the accident is your fault, AND you pay for the cow!  There were plenty of cattle along this road and we'll remember one mother and calf.  As we came around a corner she and her calf were standing at the side of the road.  Upon seeing us the calf got excited and started to run down the road.  Knowing it could easily run right in front of us I used one of my favorite toys on the motorhome – the air horn!  God, how I love the air horn.  You can scare the shit out of just about anything or anyone if you use it just right.  As I laid on that thing, while jamming the brakes, that calf picked up the pace and changed course back into the field.  Whew!  

Moab provided a little change of pace in that it has nice restaurants.  I like cooking when I'm camping, but I prefer it to be by my choice, not because "if you want to eat, that's the program!"  We did enjoy dining outside, being served, enjoying a good meal and relaxing.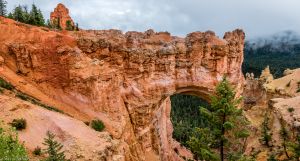 Arches NP is just outside Moab and was the most crowded park we visited.  While we enjoyed Arches, the combination of the crowds and similarity to what we'd already seen combined to slightly diminish the experience.  It was still very nice, just not as nice as the other parks.

The trip to Canyonlands proved to be exactly opposite of Arches.  The road to Canyonlands is wide open and I have no idea why the speed limit is 55.  After a while you slow the bike down just because it's getting ridiculous.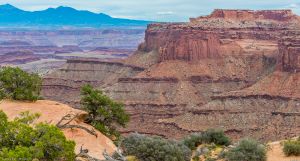 I wasn't sure what the difference between a mesa and a butte was, so I looked it up.  Apparently a butte is smaller than a mesa but whatever you call it, in Canyonlands the plateau between the Green River and the Colorado River provides a view like none other I've ever seen.  It's somewhat like having the Grand Canyon on both sides of you.  While I was there I couldn't help but think of the dangers to off road vehicles.  I can easily see driving down what you think is a just a flat road and then suddenly finding yourself driving off the edge into a thousand foot drop.  After I got home I was watching an old western and sure enough a guy driving a buckboard (remember those?) drove off the edge into the canyon!  After seeing Canyonlands, I understood.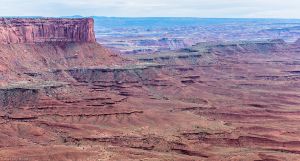 The enormity of the canyons provided the biggest photography challenge of the trip.  The human eye and brain have enough trouble processing just how immense these canyons are, let alone a piece of mechanical equipment accomplishing that feat.  There are places in this park where you can't see either the bottom or the other end of the canyon.  Nikon's best 36 megapixel camera couldn't come close to capturing that!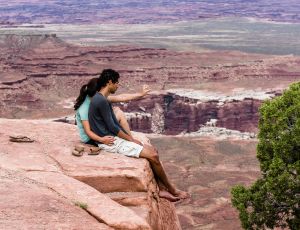 Something I found disturbing was to see people sitting on the edge of a canyon, with their legs dangling inside the canyon.  As if that wasn't bad enough, I saw kids sitting within a few feet of the edge.  Good grief, what are their parents thinking?  It's at least a thousand feet down!  There's one picture in the slide show, you'll know it when you see it, that should be captioned "This is how big your brain must be for us to be sitting here". 

From Moab we starting heading home.  We routed ourselves through Colorado and enjoyed Glenwood Springs very much and Vail slightly.  Interstate 70 through Colorado provides some of the finest scenery in the world, with Glen Canyon topping my list.  The interstate parallels the river along with the train tracks, making for some spectacular views.  Colorado also provided the biggest challenge for the motorhome.  After passing through the Eisenhower Tunnel we went through a pass on Interstate 70 that was 11,659 feet.  Even with a turbocharger the Cummins was wheezing and we slowed to 39 MPH while going uphill.

After Colorado it was on to, and through, Nebraska.  In Nebraska we saw the most brilliant rainbow ever.  At one point there were two of them, wide with deep colors, it was like a hologram had been created just for us.  Before I could find a place to safely pull over and take a picture they were gone.  I did get a pretty shot of the sunset though.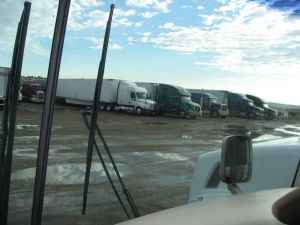 In Nebraska we "boon docked" it at the biggest truck stop I'd ever seen in my life.  I was pretty proud of myself backing the rig into a wide parking spot.  The next morning when we woke up there was an eighteen wheeler eighteen inches from me on one side, and another two feet on the other side.  So much for my pride! 

Passing through Iowa we diverted a bit to see the Amana Colonies.  The IRV2 forum I belong to had a rally there last year and everyone enjoyed the area, so I thought we'd explore a bit.  It was worth the slight diversion, but I'm not sure it qualifies as a 'destination'. 

Our first Welcome Back to Illinois was the reduced speed limit.  It's 75 – 80 out west!  The second Welcome Back was the price of fuel.  Holy Moly, at these prices we must have the best fuel in the country!  I won't get into the lost freedoms in Illinois, other than to comment about how nice it was to decide for myself when I wanted to carry a sidearm while out west.  And while on my side, the gun itself never jumped out of the holster by itself like liberals would have you believe.  It just sat there quietly, ready to protect me if I needed it. 

I will comment on the 'apology tour' part of our vacation.  The people out west were fantastic, but when they heard I was from Illinois they gave me that look.  After I apologized for what our state has bestowed on this great nation, they were understanding.  I don't know where the Kenyan gets his 38% approval rating, but I can tell you that it's not from the folks out west.  Just about universally, they see him as the subversive he is.  Off the soapbox, back to the vacation.

The slide show is about twelve minutes long.  The best way to view it is to click on the link below that opens a new tab in your browser.  Then, in the lower right hand corner there's a tiny icon that expands the show to full screen.  Just to the left of that icon is a little triangle that will start the automatic feature of the slide show.  If you like the pop up captions for the pictures, leave your cursor on the main screen.  If you don't like the pop ups, move your cursor to the lower section of the screen. 

I hope you enjoy the slide show, I really enjoyed putting it together.  Thanks for listening and viewing.
Slide Show HERE.
Slide Show instructions - Controls are located in the lower right hand corner.
1. There's a rectangle that will toggle a full screen presentation, lower right corner.
2. Choose between automatically advancing pictures or manually advancing. Little triangle to left of the full screen icon for automatic, or the little + sign to manually advance.
3. Volume control is lower right, just above the thumbnails.
4. Turn off audio in the lower left section above thumbnails.
5. Place your cursor off the main screen to turn off all pop-ups (captions, etc).
1st leg - Glacier National Park
3rd Leg - Yellowstone, Jackson and the Tetons
---